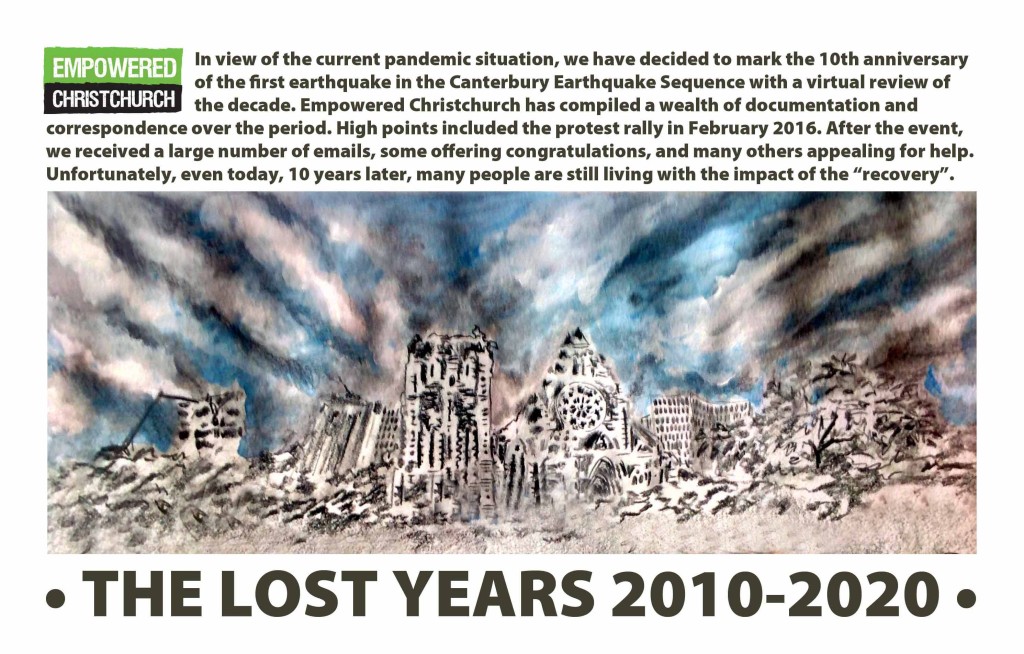 In view of the current pandemic situation, we have decided to mark the 10th anniversary of the first earthquake in the Canterbury Earthquake Sequence with a virtual review of the decade. Empowered Christchurch has compiled a wealth of documentation and correspondence over the period. High points included the protest rally in February 2016. After the event, we received a large number of emails, some offering congratulations, and many others appealing for help. Unfortunately, even today, 10 years later, many people are still living with the impact of the "recovery".
For each of the 10 days leading up to the anniversary (starting next Wednesday, 26 August), we will therefore be posting the main events for each successive year between September 2010 and September 2020. We would encourage readers to contribute their own thoughts and memories of the period, and will be glad to post any photos or short videos you may wish to send us (empoweredchch@gmail.com).
• THE LOST YEARS: Year 1 •
4 Sept• At 4.35 a.m., a shallow 7.1 magnitude earthquake strikes Christchurch, with the epicentre 37 km west of the city. There is no direct loss of life.
10 Sep• Christchurch City Council passes a new code with stricter standards for earthquake-prone buildings
27 Sept• Total number of Orders in Council (which bypass select committee processes and parliamentary discussion) used by Government to deal with Canterbury earthquake issues rises to 10. These include amendments to the Building Act, Resource Management Act, and Local Government Act
29 Sept• Council takes delivery of 200 portaloos for worst-hit suburbs
Sept-Dec• MBIE works to prepare the guidance "Repairing and rebuilding houses affected by the Canterbury earthquakes". The document is published "as a technical response to the disaster" under Section 175 of the Building Act – purely as a guide
1 Jan 2011• Council introduces a minimum floor level of 11.8 m above the city datum (reference point for elevation) for the Christchurch Flood Management Area (FMA) under what is known as "Variation 48"
22 Feb• A 6.3 magnitude earthquake claims the lives of 185 people and causes widespread destruction, with severe liquefaction and lateral spreading in eastern suburbs
25 Feb• Singapore Army units deliver emergency packs of food and water in the eastern suburbs; Generous donation of $1.5m for earthquake relief from Auckland City Council
2 March• RNZ reports that both the PGC and CTV buildings, where most of the earthquake fatalities occurred, were "green-stickered" (meaning safe to use) by Christchurch City Council after the Sept 2010 earthquake
2 March• Opposition MPs warn government against rushing through recovery legislation; Christchurch East Labour MP, Lianne Dalziel, says the city council has made a terrible decision about how it organises help for earthquake victims
13 March• Water supply is finally restored to lower Avon estuary area of South Brighton (after 20 days)
15 March• Electricity supply restored to same area (after 22 days)
13 June• A 6.3 magnitude 'quake strikes, bringing renewed severe liquefaction to the eastern suburbs
30 June• Christchurch City Council's insurance cover expires
5 Aug• EQC increases the size of its team investigating earthquake claimant fraud in Christchurch
11 Aug• $2bn rebuild plan unveiled by Mayor Bob Parker
• THE LOST YEARS: Year 2 •
13 Sept 2011• Earthquake Recovery and Earthquake Commission (EQC) Minister Brownlee visits the annual Monte Carlo Rendez-vous to speak to reinsurers. In a reply to a later Official Information Act (OIA) request, the Minister states that his presentation to the conference "cannot be found, despite reasonable efforts to locate it".
20 Sept• AMI (the largest insurer in Canterbury) states it is "confident it won't need to call on any government back-stop support package".
6 Oct• Engineering review of lower Avon stop banks provided to council by the consortium Stronger Christchurch Infrastructure Rebuild Team (SCIRT): 5,180 m where there is no stop bank; 25 sections of 3,380 m in length are categorised as High Failure Risk
10 Oct• Environment groups point out that the earthquakes are being taken as an excuse to weaken the Resource Management Act
11 Oct• Government announces an $18.4bn deficit
12 Oct• The Canterbury Earthquake Recovery Authority (CERA) calls for changes to building standards as a matter of urgency; the government welcomes this call the following day
25 Oct• Earthquake scientists call for more soil testing before building; next day, a US expert tells the Royal Commission that there should be mandatory submission of soil tests before building on land prone to liquefaction
17 Nov• The status of certain zones in the eastern suburbs is changed from orange to green, giving the green light for rebuilding
23 Dec• A 5.8 magnitude earthquake strikes (with subsidence of more than 0.5 m in some areas according to a Tonkin & Taylor ILV/IFV report (increased liquefaction vulnerability and increased flooding vulnerability)
Early 2012• AMI Insurance applies to the City Council for bulk application of existing use rights (which allow rebuilding of housing at pre-earthquake heights)
9 March• CERA/EQC Minister Brownlee says he is "nearing the end of his tether" with Christchurch City Council (CCC) and refers to Mayor Parker as "a clown"
4 April• Council mulls a 7% rates increase
5 April• Sell-off of AMI to the Australian IAG insurance group completed, with the new government-owned company, Southern Response, retaining liability for earthquake claims
12 April• New MBIE "guides" are used to turn rebuilds into repairs in the Christchurch suburb of Brooklands
14 April• Earthquake Recovery and Earthquake Commission (EQC) Minister Brownlee denies the guide changes were the result of insurance lobbying
17 April• Tonkin & Taylor warns the government that if resource consents apply, the EQC faces an additional bill of at least $100m whether work is carried out or not (since costs for consents need to be included in any cash settlements)
17 May• "Canterbury Regulatory and Consenting Working Party" meets at YMCA, Hereford St rather than at the council; it is attended by the 3 local councils, CERA, insurer representatives and Tonkin & Taylor; discussion points include existing use rights (EURs), consenting issues and flood risk
3 July• A group of locals come together at the Bakehouse Cafe to establish South Brighton Residents' Association
7 July• SBRA Facebook social media page established
12 July• Tonkin & Taylor Stage 3 Land Report released (dated 29 February 2012 – no data included for the 5.4 magnitude 23December 2011 earthquake)
26 July• Minister Brownlee says he is sick of insurers giving baseless excuses to deny earthquake claims
27 July• ICNZ assures claimants it will go as fast as it can with earthquake claims
27 July• First issue of South Brighton Residents' Association's (SBRA) newsletter "The South Brightside" is published
13 Aug• Christchurch experiences extensive flooding after a combination of a rain event and a high tide
19 Aug• Deadline for residents to accept the government red zone buyout offers
23 Aug• Royal Commission recommends tougher concrete and steel standards, one of 70 recommendations it makes in its report
• THE LOST YEARS: Year 3 •
~ "A nation that forgets its past has no future" ~
11 Sept 2012• $3.5m communications budget at the Canterbury Earthquakes Recovery Authority (CERA) revealed; the amount is defended by CEO Roger Sutton
12 Sept• Labour's Earthquake Recovery spokesperson Lianne Dalziel criticises Gerry Bownlee's description of "TC3" people as "moaners and carpers"
16 Sept• Issue 2 of The South Brightside newsletter
21 Sept• Magnitude 4.3 earthquake rattles the city
18 Oct• Canterbury District Health Board (CDHB) says earthquakes are triggering increased binge drinking, non-adherence to medication and domestic violence
14 Nov• The Insurance Council of New Zealand (ICNZ) sues Christchurch City Council for raising the seismic strength requirements for all buildings from 34% to 67% of the building standard. It claims the move is unlawful and seeks to apply the lower seismic standard for resolution of its members' claims
1 Dec• Further MBIE guidance "Repairing and rebuilding houses affected by the Canterbury earthquakes" is published
6 Dec• Issue 3 of The South Brightside newsletter
14 Jan 2013• Reports that uninsurable "as-is" properties are being snapped up by speculators. The Real Estate Institute and local councillor Glenn Livingstone see this as a positive development, providing a good return on investment for speculators and much-needed accommodation
12 Feb• Cost-share agreement between council and government hammered out. A 3-year plan is adopted instead of a 10-year plan. A 60%-40% government-council split is promised for infrastructure, but the government contribution is progressively reduced over the next few years
20 Feb• 70% of residential claims have still not been dealt with after 2 years
11 March• High Court verdict arrived at in Tower v O'Loughlin case; Tower Insurance admits its goal is to limit the amount paid out. Just 1% of repairs have been completed by Tower's PMO after more than two years
22 March• 10,000 EQC claim details are improperly made public. The next day, the number of claims disclosed increases to 83,000
11 June• Cross Party Forum held. Later OIA requests are met with the response that no documents exist in relation to the meeting
19 June• Labour MP Lianne Dalziel announces she will run for the position of Christchurch Mayor
19 June• Responding to an OIA request from claimant group WeCAN, the Earthquake Commission states that a charge of $24,000 would apply to provide the information
30 June• More than 40,000 homes have been repaired as part of the EQC home-repair programme
25 July• Concerns expressed about misleading EQC level estimates amid claims that EQC damage estimates are inaccurate
July 2013• International Accreditation New Zealand (IANZ) removes CCC's building accreditation; Mr Doug Martin is appointed as Crown Officer to sort out the situation; Mr Peter Sparrow (formerly at MBIE) is appointed Council's Director of Building Control and City Rebuild
3 Aug• In an interview with the local newspaper, Pegasus Post, SBRA chair, Hugo Kristinsson, presents a detailed proposal for hot pools in Brighton
27 Aug• South Brightside notifies residents that the shops at the Bridge Street roundabout are to be demolished, after having been closed since November 2012
• THE LOST YEARS: Year 4 •
~ "A nation that forgets its past has no future" ~
4 Sept 2013• South Brighton Residents' Association (SBRA) deputation to council regarding the increased risks in the suburb following the earthquakes
27 Sept• The major artery over the Bridge Street bridge in South Brighton finally re-opens for traffic in both directions
5 Oct• Public Forum on council plans for South Brighton reserves
24 Oct• Local elections. Lianne Dalziel elected Mayor of Christchurch with a 50,000 majority over businessman, Paul Lonsdale
25 Nov• Issue 5 of The South Brightside newsletter
17 Dec• Press reports that CCC has regained its building accreditation; Doug Martin describes the root of the problem he dealt with as "a failure of leadership and management within the organisation". The cost to ratepayers for the council's re-application process as a Building Consent Authority is: $11.5m, including (30) extra salaries $2.4m; $700,000 for Doug Martin; $1m for consultants; $2m on insurance; 2 visits from IANZ $64,000
Jan 2014• Paper is submitted to cabinet to "explore opportunities to apply some EQC land settlements to support offsite works to mitigate the future flooding risk in parts of Christchurch. These works have the potential to not only resolve the EQC liability but to further accelerate the residential housing rebuild and protect the future insurability of some areas"
17 Jan• Extensive surface flooding in South Brighton
5 March• Widespread flooding after autumn storm; New Mayor Dalziel describes it as a "one in 100-year event"
11 March• Offsite works with CCC to settle EQC's land liability mentioned in briefing to Earthquake Recovery and Earthquake Commission Minister Brownlee
7 July• Christchurch City Council update on flood mitigation. EQC comment: "Christchurch City Council is investigating interim and long-term area-wide remediation solutions. Where these schemes can be identified, costed and completed in a timely manner then EQC is open to contributing as a way of resolving some IFV claims."
7 July• Canterbury Earthquake (Christchurch Replacement District Plan) Order 2014: requires the Christchurch City Council to review the existing district plans and develop a replacement district plan. The order modifies the provisions and application of the Resource Management Act 1991, and remains in force until 19 April 2016
August• Tonkin & Taylor issues report on increased flooding vulnerability and increased liquefaction vulnerability (IFV and ILV)
• THE LOST YEARS: Year 5 •
4 Sept 2014• Campbell Live television special with insurance claimants from Shirley Boys' High
4 Sept• SBRA contribution to Deutsche Welle article on Christchurch, titled the "21st century Atlantis"
6 Nov• Issue 6 of The South Brightside newsletter
16 Nov• Empowered Christchurch asks Labour MPs to raise Christchurch earthquake concerns in Parliament
18 Nov• Earthquake Recovery and Earthquake Commission Minister, Gerry Brownlee, is fined $2,000 for a Christchurch Airport security breach
19 Nov• SBRA information evening with guest speaker Matthew Hughes from the University of Canterbury
22 Nov• SBRA planting and landscaping day at Community Centre
10 Dec• High Court declaratory judgement on land; EQC must repair to an "as new" standard; Diminution of Value (DoV) approach to liquefaction and flooding payments may be challenged in court
10 Feb 2015• SBRA information evening with guest speaker Adrian Cowie, professional surveyor
Feb 2015• Regional Coastal Plan: references to building restrictions are removed
Feb• First details of EQC's Increased Liquefaction Vulnerability (ILV) methodology emerge. Horizontal Soil Mixing technique proposed to remediate land susceptible to liquefaction. "EQC has pre-emptively tabled a $213m saving on "enabling costs" on the back of this HSM fix"; DoV (diminution of value) for flooding – savings of $102m"
6 March• Council issues flood alert!
March-April• EQC releases $525m to Treasury
12 April• SBRA proposal for a welcome sign on Bridge Street
24 April• 6.3 magnitude earthquake strikes New Zealand's South Island near Kaikoura
11 May• Staff report that 36 notifications have been filed with the council using the Empowered Christchurch template (to prevent insurers using exemptions without the homeowner's permission)
12 May• Empowered Christchurch notification letter officially publicised to protect homeowners from insurers exploiting exemptions from the council
20 May• SBRA submission to council on the condition of abandoned council units in the suburb and other issues
28 May• Canterbury Earthquakes Recovery Authority (CERA) Recovery Forum
15 June• New Zealand Symposium on Disaster Risk Reduction at Te Papa, Wellington, with John Vargo (ResOrgs), Sandeeka Mannakkara (University of Auckland), and Dave Brundson Kestrel, (later an Engineering New Zealand consultant and engineering representative on the Greater Christchurch Claims Resolution Service (GCCRS) evaluation team)
July• Council assessment reveals up to 6,000 properties are susceptible to erosion and almost 18,000 to coastal flooding over the next 50-100 years
10 July• Issue 7 of The South Brightside newsletter
16 July• Public council meeting on coastal hazards held in North New Brighton Community Centre
29 July• South Brighton Residents' Association (SBRA) submission on the CERA Draft Transition Recovery Plan
15 Aug• TC3 (Technical Category 3) Facebook Group and SBRA meeting with Council, EQC and Tonkin & Taylor representatives in Princess St, Addington
20 Aug• Canterbury Earthquakes Recovery Authority (CERA) Community Forum
28 Aug• Coastal hazard zones introduced; application of 12.3 m RL floor level; hazard warnings on LIMs for development
1 Sept• It is revealed that EQC has spent $68m on travel costs
Sept• Withdrawal of coastal hazards from District Plan review process; no public submissions are now possible; A new finished floor level (FFL) of 12.3 m above datum is introduced through the Replacement District Plan process
4 Sept• Final date for submissions on Christchurch District Plan Review
• THE LOST YEARS: Year 6 •
10 Sept 2015• Public meeting on earthquake issues in the Transitional (Cardboard) Cathedral. Council representative explains how residents can use the Empowered Christchurch notification to prohibit work under exemption
10 Sept• Canterbury Earthquake Recovery Authority (CERA) declines to meet with TC3 Group and SBRA representatives to discuss issues because the proposed agenda items are the responsibility of the council or insurers
Mid-Sept 2015• Coastal Hazards Chapter removed from Replacement District Plan using an Order in Council
12 Sept• Minister Brownlee rejects calls for an inquiry into the Earthquake Commission
17 Sept• Tsunami warning for Canterbury following an 8.3-magnitude earthquake in Chile
Oct• Government announces budget surplus (following the $525m payment from EQC at end of the financial year)
Oct• Christchurch Mayor Leanne Dalziel signs a letter of "cooperation and friendship" with Guoxin International, the international arm of China's largest project tendering and procurement company
16 Oct• Mouth of River Avon moved from Bridge St bridge to Evans Avenue. This shifts the Coastal Marine Area approximately one kilometre upstream. South Brighton is now recognised as a tidally influenced area
21 Oct• After the resignation of Gail Kettle, EQC's General Manager Customer and Claims, the Labour Party calls for an independent inquiry into allegations of nepotism at the Commission
8 Nov• Welcome sign for South New Brighton unveiled
14 Nov• New Brighton pier illuminated in French colours in sympathy with the victims of the Bataclan Theatre attack in Paris
20 Nov• Finance Minister Bill English says Environment Commissioner's report on rising sea levels is "speculative"
9 Dec• Revelation that EQC paid $3m in staff bonuses while dealing with the Canterbury earthquakes
10 Dec• Peer review of Tonkin & Taylor coastal hazards report announced
11 Dec• Empowered Christchurch submission on the Greater Christchurch Regeneration Bill
13 Jan 2016• EQC has 5,500 repairs that need to be repeated due to poor workmanship
30 Jan• Stonewood Homes goes into liquidation
31 Jan• Statement from EQC CEO, Ian Simpson: more than $8.9bn has been paid out in claims; The Canterbury Home Repair Programme (CHRP) cost more than $3.0bn and EQC is dealing with the last 1,200 or 1,300 homes, with 700 already under repair and 500 where the EQC is trying to settle agreements with customers to allow it to begin work. Mr Simpson states that, this year, the Commission needs to push hard to make sure anyone waiting for the EQC to do something gets it done
14 Feb• 5.7 magnitude earthquake strikes Christchurch
22 Feb• Protest rally held in Cathedral Square one day before the 5th anniversary of the February 2011 'quake. Radio New Zealand estimates an attendance of 1,000 people. One speaker, Labour MP Megan Woods, criticizes the government for "spending tens of millions of our money fighting Cantabrians in the courts – sometimes to deny them access to justice"
9 March• Final Canterbury Earthquake Recovery Authority (CERA) Community Forum held
6 April• South Brighton Residents' Association (SBRA) representatives meet with the Mayor on council premises to discuss existing use rights, stop banks, and the old and vulnerable in the community
April• Discovery that the council's required floor levels for home rebuilds north of Bridge Street in South Brighton are 50 cm lower than the requirement south of Bridge Street
18 April• Canterbury Earthquake Recovery Authority (CERA) publishes a list of 64 amendments to legislation in the form of Orders in Council used by the government between 2010 and 2015 (thus avoiding select committee and parliamentary processes)
26 April• Meeting between Empowered Christchurch and SBRA representatives and the Mayor and council staff. The floor level discrepancy in South Brighton is described as a flood modelling error
26 April• In an internal council memo, the council's General Manager, Consenting and Compliance explains that flood modelling had "assumed" the construction of a future stop bank in Bridge Street. He promises to work closely with Empowered Christchurch on the issue and to communicate with the affected residents
3 May• Council begins to treat all requests for information from Empowered Christchurch and SBRA under the Local Government Official Information and Meetings Act (LGOIMA)
5 May• NewsTalk ZB interview with Empowered Christchurch on the flood modelling discrepancy
6 May• Empowered Christchurch meeting with Andre Lovatt, head of the new recovery organisation, Regenerate Christchurch
13 May• Empowered Christchurch submission to the Independent Hearings panel on the Replacement Christchurch District Plan
20 May• EQC gives itself 6 weeks to classify the "final bucket" of 300 claims as either under or over cap
20 May• EQC presents "Diminution of Value methodology for Increased Liquefaction Vulnerability – ILV (for properties with aresidential building in place)"
7 June• South Brighton Residents' Association (SBRA) public meeting on Existing Use Rights at the Community Hall South Brighton
30 June• 215 over cap (i.e. with assessed damage of more than $100k) properties have been transferred to insurers by EQC in first six months of 2015 (five years after the 2011 earthquakes)
21 July• Ivan Iafeta appointed as Regenerate Christchurch CEO; previously Canterbury Earthquake Recovery Authority (CERA)General Manager, Red Zone
27 July• First ILV (increased liquefaction vulnerability) community information meeting held at Belujah Church, St Albans
2 Aug• Press article "Flood risk looms for new homes in Silverstream": up to 300 homes in a new development north of Christchurch are found to be potentially flood prone due to an error in the original survey
22 Aug• Second ILV (increased liquefaction vulnerability) community information meeting held at Belujah Church, St Albans
22 Aug• Ian Simpson, CEO of EQC, quits his $450,000 per annum position to take up a post as CEO of GNS Science
• THE LOST YEARS: Year 7 •
28 Sept 2016• Third ILV community information meeting at Belujah Church, St Albans; one member of audience describes diminution of value (DoV) amounts as "shut up payments". The scheduled October and November meetings are cancelled at short notice without explanation
6 Oct• Regenerate Christchurch appoints 3 new managers, starting in November 2016: Rob Kerr, General Manager, Residential Red Zone; James Lunday, General Manager, Strategy and Regeneration Planning; Chris Mene, General Manager, Partnerships and Engagement
18 Oct• South Brighton Residents' Association (SBRA) hosts civil defence evening on tsunami risk
14 Nov• 7.8 magnitude earthquake in Kaikoura
4 Dec• John Key resigns as Prime Minister of New Zealand
31 Dec• Insurance Council of New Zealand (ICNZ) reports that 83% of insurance claims have been settled (after 6 years)
25 Jan• Press reports that IAG and Tower are each suing the EQC over ILV (increased liquefaction vulnerability) payments
31 Jan 2017• Last date to object to new Christchurch City Council rate evaluations (now taking earthquake damage into account)
13 Feb• Start of the Christchurch Port Hills fires, which are not brought under control until 20 April. One person (a firefighting helicopter pilot) dies and eleven homes are consumed or badly damaged by the blazes
22 Feb• To mark the 6th anniversary of the most deadly earthquake, a silent chalk protest is held in Cathedral Square in Christchurch city centre
3 Apr• SBRA meeting with council's Alicia Palmer and Emma Hunt of Civil Defence; a workshop is proposed in June or July; the first-named resigns from council in June. No workshop is held
20 May• SBRA submission on council's Annual Plan
19 June• First City Leaders Forum at The Piano, 156 Armagh Street
20 June• Christchurch City Council resolution adopted to "Direct the Chief Executive to report back to Council by 30 August 2017 on a proposed approach for the Council to lead and expedite the regeneration planning for earthquake related damage to the area of South New Brighton"
29 June• Joint Southshore and South Brighton Residents' Association deputation to Waitai/Coastal Community Board
10 July• SBRA meeting with Mayor Dalziel and council staff on earthquake legacy issues
18 July• Winter storm and flooding in Southshore; South Brighton stop bank almost topped; controlled breaches are allowed in 2 places at junction of Falcon/Kibblewhite St and at Owls' Terrace
31 July• Second City Leaders Forum (the rest of the series, including a discussion on public health, is abandoned): the topic for the second session is the Cathedral Square development plan; Mayor Dalziel states that community engagement is crucial to the regeneration, and it should combine "the wisdom of the community with the knowledge of experts". Regenerate Christchurch CEO, Ivan Iafeta, says that the minister and the mayor are "extremely clear" that Regenerate Christchurch should involve the public in its planning
31 July• SBRA meeting with Regenerate Christchurch and Council representatives
4 Aug• SBRA makes two submissions to Community Board: 1) on the absence of a risk-based planning approach and the threat from contaminated sewage; 2) on council's conflicting suburb boundaries and rates increases
25 Aug• SBRA meeting with council staff, Richard Osborne and Debbie Hogan on the regeneration plan for South New Brighton
• THE LOST YEARS: Year 8 •
5 Sept 2017• Press reports that none of the $4m of the Canterbury Resilience Fund launched in Feb 2017 has been distributed. From 2016, the government and council committed to contributing $1m each to the fund for three years
15 Sept• South Brighton Residents' Association (SBRA) receives letter from council, setting out the next steps for regeneration in the suburb
17 Oct• SBRA meets with the regional authority, Environment Canterbury. The latter's General Counsel denies the regional authority has any liability for a future failure of the stop bank in South Brighton. When reminded of the provisions of the Marine and Coastal Area (MACA) Act, she replies that it was "only intended for iwi [Maori tribe] claims". At a subsequent council meeting, Mayor Dalziel asserts that the council has no liability either
20 Oct• SBRA attend on-site discussion on Bridge Street with council arborist and staff on the resident association's proposal to create a tree-lined avenue into the suburb on Bridge Street
29 Nov• Letter from council CEO, Karleen Edwards, stating that only a court can decide if the council is liable for any failure of the stop bank
6 Dec• Vote of no confidence in Regenerate Christchurch passed at SBRA monthly meeting. This decision was taken after a lengthy series of fruitless discussions with the entity dating back to May 2016
18 Jan 2018• SBRA meeting with Poto Williams MP. The member for Chirstchurch East promises to follow up with council on an individual case of hardship. The personal details of the individual are provided with permission, along with other errors and omission by ECan and the council, but nothing more is heard
2 Feb• SBRA meeting with Minister for the Earthquake Commission and for Greater Christchurch Regeneration Megan Woods. The minister is only able to spare 30 minutes, but promises to reply to the remaining points raised
7 Feb• SBRA press release on the vote of no confidence in Regenerate Christchurch
20 Feb• State of emergency declared in Christchurch in preparation for Cyclone Gita
23 Feb• EQC chairman, Sir Maarten Wevers resigns, saying it is clear Minister Woods has "no confidence" in the commission's board or staff
31 May• Official opening of Taiora QEII Leisure Centre, the first sports facility built for the eastern suburbs since the earthquakes
5 July• Christchurch City Council is branded the most secretive in the country after refusing to reveal the cost of an electronic touchscreen for its new library until New Zealand's top law officer threatens to take legal action. The touchscreen is later found to have cost $1m
8 July• Council/Regenerate Christchurch office opens in Bridge Street in South Brighton to communicate the "Southshore South New Brighton Regeneration Strategy"
24 July• The responses to the remaining questions from the meeting with SBRA in February are received from Minister Woods
11 Sept 2018• Public meeting in New Brighton Working Men's Club on District Plan omissions
19 Sept• New Zealand High Court orders reinvestigation of Chinese steel imports. NZ Steel (a 100% subsidiary of Australia's BlueScope Steel) had lodged 3 complaints with the Ministry of Business, Innovation and Employment (MBIE), arguing that steel manufactured in China is subsidised by the Chinese government. MBIE ruled in August 2018 that Malaysian steel had been dumped in New Zealand, but rejected a complaint that the same type of steel from China had also been dumped
27 Sept• Council discussion on proposal to rewrite a District Plan clause and request approval of an amendment from the Minister under s71 Greater Christchurch Regeneration (GCR) Act
24 Oct• Empowered Christchurch and South Brighton Residents' Association attend the United Nations training session for New Zealand's Universal Periodic Review of Human Rights (UPR)
26 Oct• Empowered Christchurch and SBRA representative attends the United Nations UPR pre-session in Wellington
6 Nov• Empowered Christchurch and SBRA meeting with the Office of the Ombudsman
8 Nov• SBRA meeting with Regenerate Christchurch and council staff to view interactive flood maps. These show 1.0 m of flooding in many areas of the lower Avon estuary within the next 50 years
Nov• Public Inquiry into the Earthquake Commission established
13 Nov• Dame Silvia Cartwright appointed to chair the Inquiry into the EQC
14 Nov• Public meeting with Minister Megan Woods in North Brighton on the Earthquake Commission, insurance and coastal hazard
29-30 Nov• Canterbury Earthquake Symposium held at Canterbury University in Christchurch; presentation abstract submitted by Empowered Christchurch is rejected
14 Dec• Minister Woods approves a s71 Greater Christchurch Regeneration (GCR) Act amendment to the Christchurch District Plan, allowing people to rebuild on vacant sites where homes were demolished after the earthquakes without requiring a resource consent
18 Dec• State Services Commission inquiry finds that private investigators Thompson & Clark spied on earthquake victims; Southern Response chair, Ross Butler, resigns. SR "proactively" releases a tranche of incriminating documents and correspondence with Thompson & Clark; New Zealand. High Court allows a class action against Southern Response to proceed.
20 Dec• New Zealand High Court judgment in the Fitzgerald v IAG case; epoxy resin and jack and pack repairs are deemed permissible for rubble foundations; judge rules that foundations only need to perform as they did when the house was built – in this case in the 1920s
21 Jan 2019• New Zealand's UPR review in Geneva
March• Construction company Arrow International, the project management company of government-run Southern Response, goes into liquidation owing debts of $46m
15 March• Consecutive mass shootings at two Christchurch mosques leave 51 dead. On his way to a third location, the perpetrator's car is forced off the road and he is arrested by police
4 April• Council CEO Karleen Edwards, a psychiatrist turned health administrator, admits that she will not be reapplying for her job and will be leaving the council in June. Edwards was blamed for spending $1 million of ratepayers' money on an electronic touchscreen for the new city library
28 May• SBRA and Empowered Christchurch meeting with the head of the Inquiry into the EQC, Dame Silvia Cartwright
22 Sept 2019• Official unveiling of the sculpture Te Kuaka/The Godwits on Bridge Street, South New Brighton
17 Feb 2020• South Brighton Residents' Association (SBRA) and Empowered Christchurch representatives attend a meeting with Leilani Farha, UN Rapporteur on the right to adequate housing
8 March• Farewell to the godwits event; SBRA fundraising collection for a boulder and plaque on the site of the sculpture
1 March• Report into the Earthquake Commission (EQC) presented to the New Zealand Governor-General by Dame Silvia Cartwright
6 March• Large blaze at South Brighton School
21 March• Four alert levels are introduced for the coronavirus pandemic. The immediate level is set at Level 2
23 March• Alert level is raised to Level 3
25 March• Alert level is raised to Level 4 with a nationwide lockdown
27 April• Covid-19 alert level scaled back to Level 3
13 May• Alert Level 2 is announced
30 May• Opening of He Puna Taimoana hot pools in New Brighton, the second leisure facility built in the eastern suburbs of Christchurch since the earthquakes
1 June• New Zealand moves to Alert Level 1
11 Aug• First 4 cases reported of the new Auckland cluster
12 Aug• Auckland region moved to Level 3, and the rest of New Zealand to Level 2
13 Aug• New council working group announced to look at coastal hazards adaptation programme and aligning the District Plan with the NZCPS
27 Aug• Christchurch mosque shooter sentenced to life in prison without parole.
1 Sept• Earthquake Commission (EQC) CEO, Sid Miller, claims that all 1,159 open cases on the Commission's books are botched repairs
4 Sept• The 10th anniversary of the first major earthquake in 2010